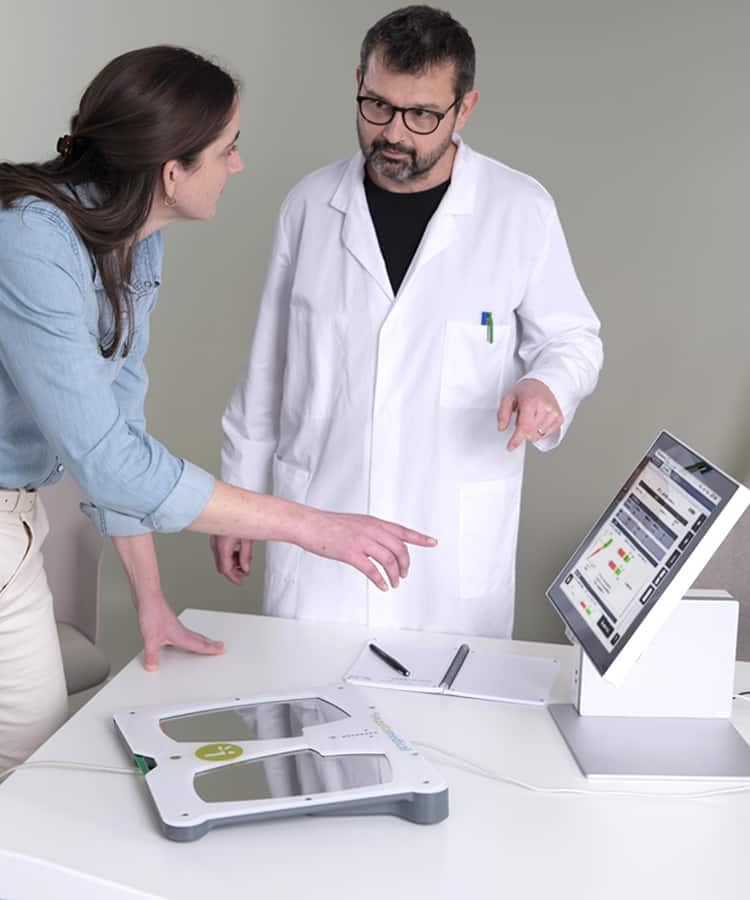 SUDOSCAN has been used to monitor patient outcomes
A key clinical application of SUDOSCAN is longitudinal follow-up and patient management. SUDOSCAN has good reproducibility and repeatability [1], which allows the physician to follow patient outcomes over time and assess the progression of neuropathy and the impact of lifestyle modification or medication.
In this section three cases provide meaningful examples of the utility of SUDOSCAN to monitor patients over time in different clinical applications.
Find the main publication list on using SUDOSCAN in the follow-up of patients click here.
1 – Vitamin B12 Supplementation in Diabetic Neuropathy monitored with SUDOSCAN [2]
The effect of normalizing vitamin B12 levels with 1 mg/day of oral B12 (methylcobalamin) for one year in type 2 diabetes patients with diabetic neuropathy has been investigated in a randomized, double-blind, placebo-controlled study by measuring sudomotor function using SUDOSCAN.
90 patients with type 2 diabetes well controlled using metformin for at least four years, and suffering from both peripheral and autonomic diabetic neuropathy were tested to evaluate neurophysiological parameters, sudomotor function (autonomic dysfunction) measured with SUDOSCAN, pain score, and quality of life. After 12 months of oral B12 supplementation, there were increased plasma B12 levels and significant improvements of all neurophysiological parameters, sudomotor function, pain score, and quality of life among patients randomized to receive B12 supplementation.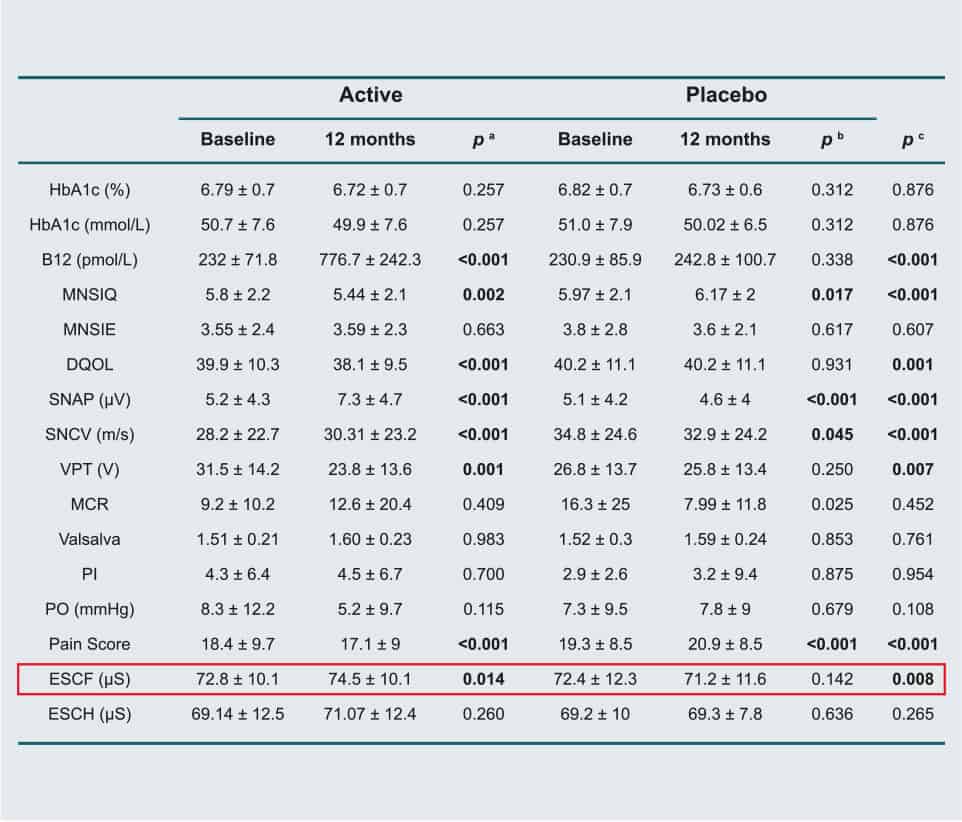 Table: Changes in indices from baseline to follow-up in both groups.
2 – SUDOSCAN in wild-type cardiac amyloidosis [3]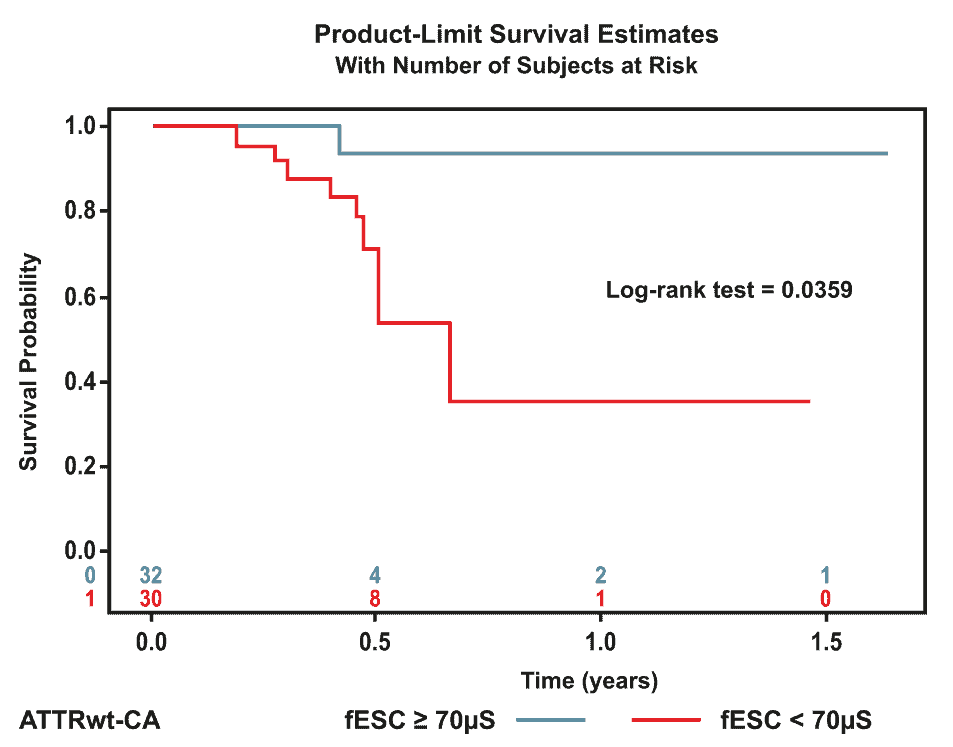 Patients with cardiac wild-type amyloidosis (ATTRwt-CA) and controls matched by age, gender, and body mass index were evaluated for autonomic neuropathy assessed by electrochemical skin conductance (ESC) measured using SUDOSCAN. The relationship between ESC scores, functional cardiac status, and prognosis were reported.
The results demonstrated that SUDOSCAN feet ESC measures were reduced in almost 50% of patients with ATTRwt-CA and were associated with a worse prognosis, helping identify patients at higher risk for a poor outcome.
Figure: Kaplan-Meier curves for cardiac decompensation or death in transthyretin wild-type cardiac amyloidosis (ATTRwt-CA) patients with electrochemical skin conductance at the feet (fESC) ≥70µS or <70µS.
3 – The effect of lifestyle intervention evaluated with SUDOSCAN [4]
SUDOSCAN was used to evaluate the effect of physical activity on cardiovascular risk and metabolic disease. Among 650 subjects involved in a 12-month training program, those with the highest level of weekly physical activity (as measured with a pedometer) showed an improvement in sudomotor function measured with SUDOSCAN which was the most significant change over 1 year.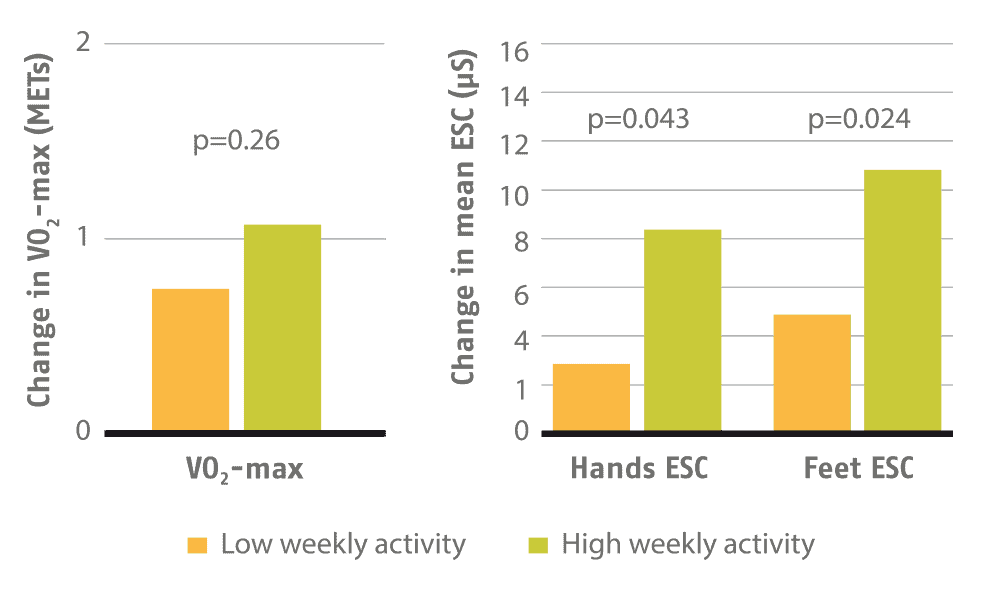 Figure: Improvements of V02 max and ESC in individuals undergoing a 12 month lifestyle intervention program.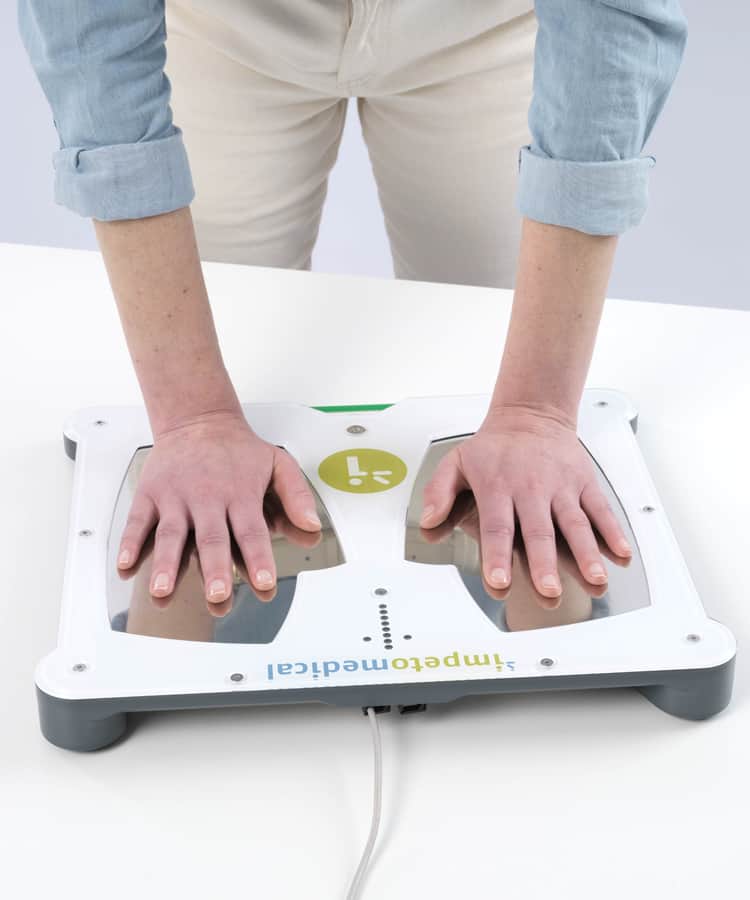 About SUDOSCAN
SUDOSCAN is a quick and non-invasive test that provides an accurate evaluation of sweat gland function reflecting the status of the autonomic nervous system.

With quantitative and reproducible results, SUDOSCAN allows physicians to detect early and follow-up peripheral neuropathy to monitor disease progression and assess treatment efficacy for better patient management.

SUDOSCAN efficacy has been evaluated in the assessment of small fiber neuropathies in several diseases and compared to reference tests recommended in guidelines.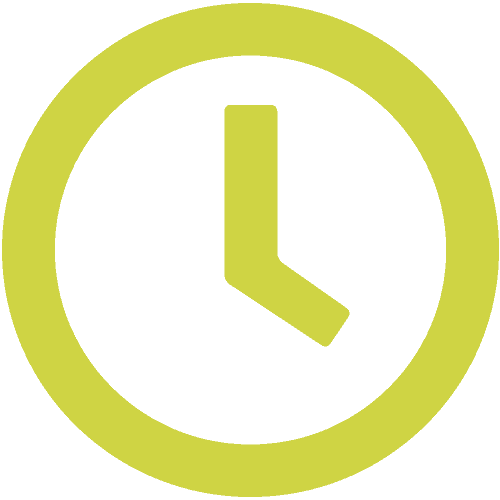 Fast
No patient preparation
Results in 3 minutes
Easy-to-read critical data points to help physicians reach a diagnosis

Secure
Non-invasive
No fasting
Easy to operate
CE and FDA approvals

Accurate
Reproducible quantitative results
Independent from environmental conditions
Backed by evidence-based research
150 peer-reviewed journals publications
References
[1] L. Bordier et al. Accuracy of a Rapid and Non-Invasive Method for the Assessment of Small Fiber Neuropathy Based on Measurement of Electrochemical Skin Conductances. Front Endocrinol (Lausanne). 2016 Feb 29;7:18.[2] T. Didangelos et al. Vitamin B12 Supplementation in Diabetic Neuropathy: A 1-Year, Randomized, Double-Blind, Placebo-Controlled Trial. Nutrients 2021, 13(2), 395.[3] Kharoubi M, Roche F, Bézard M, Hupin D, Silva S, Oghina S, Chalard C, Zaroui A, Galat A, Guendouz S, Canoui-Poitrine F, Hittinger L, Teiger E, Lefaucheur JP, Damy T. Prevalence and prognostic value of autonomic neuropathy assessed by Sudoscan® in transthyretin wild-type cardiac amyloidosis. ESC Heart Fail. 2021 Apr;8(2):1656-1665.[4] A. Raisanen et al. Sudomotor Function as a Tool for Cardiorespiratory Fitness Level Evaluation: Comparison with Maximal Exercise Capacity. Int J Environ Res Public Health. 2014 May 30;11(6):5839 48.