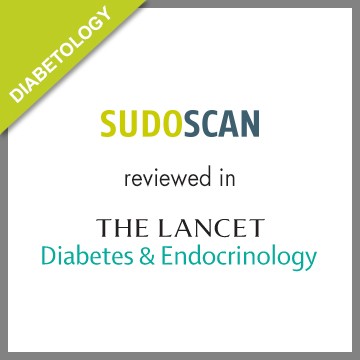 THE BENEFITS OF SUDOSCAN
IN EARLY DIAGNOSIS OF DIABETIC PERIPHERAL NEUROPATHY REVIEWED IN THE LANCET
Selvarajah D, Kar D, Khunti K, Davies MJ, Scott AR, Walker J, Tesfaye S.
Article title: "Diabetic peripheral neuropathy: advances in diagnosis and strategies for screening and early intervention".
The Lancet Diabetes Endocrinol 2019. Volume 7, Issue 12, p938-948, December 01, 2019.
A recent review has been published in The Lancet Diabetes & Endocrinology, showing the utility
of SUDOSCAN in the early diagnosis of diabetic peripheral neuropathy (DPN).
Early detection of DPN is a key point in the management of diabetic patients; indeed, DPN is a principal cause of diabetic foot ulceration and can lead to foot amputation.
As DPN is a marker of diabetic complications, the authors propose using point-of-care testing to screen for various diabetes complications in a single visit. Large and small fiber assessments (DPN-Check and SUDOSCAN, respectively) can be performed easily to identify neuropathies as shown in the pattern below.
Clinical utility of SUDOSCAN for the diagnosis of diabetic peripheral neuropathy: sensivity 87,5%, specificity 76,2%, intra-observer intraclass correlation coefficient 0,88 and inter-observer intraclass correlation coefficient 0,95.
Proposed assessments for a one-stop screening clinic for diabetes complications,
including use of point-of-care devices for DPN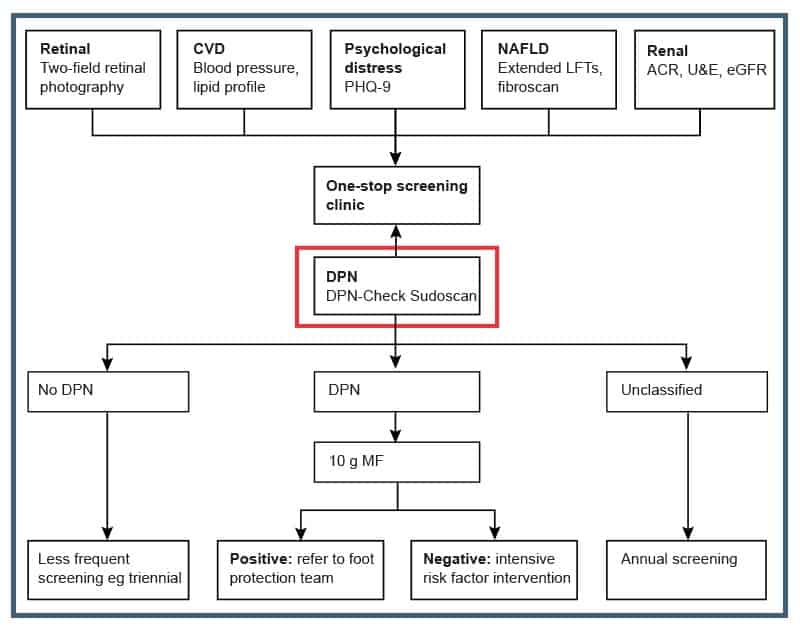 Adapted from Binns-Hall and colleagues, by permission of the authors. DPN=diabetic peripheral neuropathy. PHQ-9=Patient Health Questionnaire-9. NAFLD=non-alcoholic fatty liver disease. LFTs=liver function tests. ACR=urine albumin-to-creatinine ratio. U&E=urea and electrolytes. eGFR=estimated glomerular filtration rate.
Share This information, Choose Your Platform!