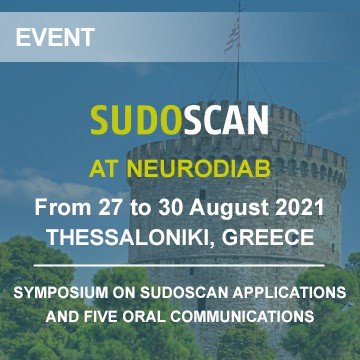 SUDOSCAN at NEURODIAB 2021:
Symposium and five oral communications
Impeto Medical has been delighted to participate to NeuroDiab congress 2021, the 31st annual meeting of diabetic neuropathy study group of the EASD (European Association for the Study of Diabetes), from August 27 to 30, 2021, Thessaloniki, Greece. 
Five oral communications regarding SUDOSCAN use in clinical practice and a symposium were held.
The congress NEURODIAB 2021 is considered the most important international annual event in the scientific field of Diabetic Neuropathy with presentations about all new research findings and  outstanding lectures and symposia from distinguished and awarded speakers and researchers. 
Oral communications detail:
 FRIDAY 27 AUGUST 2021
OR.04 SEXUAL DYSFUNCTION IN NORWEGIAN WOMEN WITH TYPE 1 DIABETES: ASSOCIATIONS WITH DISTRESS, DEPRESSION AND AUTONOMIC NEUROPATHY
Anne Haugstvedt, Ragnhild Strandberg, Roy Miodini Nilsen, Jannike Jørgensen,
Jakob Haugstvedt, Rodica Pop-Busui, Mari Sørstrand Æsøy, Mari Clausen-Bekkelien,
Eirik Søfteland (Norway and US)
Sexual dysfunction was higher in women with T1D than non-diabetic controls, and was associated with depression and diabetes distress. Further, we uncovered impairments of at least two branches of the autonomic nervous system (including sweat dysfunction measured with Sudoscan), in line with a hypothesis involving autonomic neuropathy as a pathomechanism of sexual dysfunction in diabetes.
FRIDAY 27 AUGUST 2021
OR.10 EFFICACY AND SAFETY OF THE COMBINATION OF SUPEROXIDE DISMUTASE, ALPHA  LIPOIC ACID, VITAMIN B12, B1, B2, B6, E, MG, ZN AND A FATTY ACID FOR 2 MONTHS IN  PATIENTS WITH DIABETIC NEUROPATHY 
Eleni Karlafti, Evangelia Kotzakioulafi, Zisis Kontoninas, Parthena Giannoulaki,
Konstantinos Kantartzis, Christos Savopoulos, Triantafyllos Didangelos (Greece and Germany)
The combination of the ten elements in one tablet for 2 months at a daily dose of two tablets in patients with DMT2 improved pain and Vit b12 levels. Peripheral neuropathy followed by Sudoscan and other tests did not significantly change. Study is ongoing for longer follow-up.
SUNDAY 29 AUGUST 2021
ΟR.32 PERIPHERAL NEUROPATHY AND COVID-19 
Tamar Maghradze, Elena Shelestova, Ramaz Kurashvili
National Center for Diabetes Research, Tbilisi, Georgia
This study shows that COVID 19 may develop peripheral neuropathy in diabetic patients who did not have diabetic peripheral neuropathy prior to Covid infection. Observations will continue.
SATURDAY 28 AUGUST 2021


  WATCH THE PRESENTATION
OR.20 LESIONS OF THE SMALL FIBERS OF THE AUTONOMIC NERVOUS SYSTEM AND GRADATION OF THE DIABETIC FOOT RISK IN PATIENTS WITH DIABETES
Olivier Bourron, Agnes Hartemann, Abdul Moutairou, Jean-Henri Calvet (France)
This study revealed a link between the neuropathy of the small fibers of the autonomic nervous system and the gradation of the diabetic foot risk carried out during the treatment, confirming the clinical interest of Sudoscan. This work needs to be completed on a larger population to study the possible predictive character of the neuropathy of small fibers on the development of future lesions of the foot.
FRIDAY 27 AUGUST 2021
OR.02 SIMPLE AND ACCURATE METHOD TO ASSESS THE AUTONOMIC NERVOUS SYSTEM THROUGH SUDOMOTOR FUNCTION
Philippe Brunswick, Marie-laure Nevoret, Jean-Henri Calvet, Kamel Khalfallah (Impeto Medical, France)
More than 150 published clinical studies established that the Sudoscan technology is robust under a variety of clinical circumstances and for a wide range of populations; additionally, if the technology is used to monitor patients over time, the good reproducibility ensures that a change in ESC is a reliable marker of sudomotor function change and should prompt further investigation.
SUDOSCAN symposium on application in diabetic foot prevention. 
SATURDAY 28 AUGUST 2021
During this symposium, we have been pleasured to have three presentations, with specialists in diabetes that have assessed SUDOSCAN efficacy in clinical practice, Pr T. Didangelos and Pr R. Roussel. 
Chairs: Pr P. Kempler  and  Pr V. Spallone. 
Sudoscan theory and in vitro validation 
 WATCH THE PRESENTATION
Presenter: P. Brunswick –Impeto Medical CEO, France.
Clinical developments and applications of Sudoscan
 WATCH THE PRESENTATION
Presenter: Pr. T. Didangelos, local Chairman of NeuroDiab 2021, from Aristotle University School of Medicine, Greece.
Application for early detection of diabetic foot complications in France
 WATCH THE PRESENTATION
Presenter: Pr R. Roussel, Hôpital Bichat – Claude-Bernard, France.
Program available here https://www.livemedia.com/neurodiab2021
Share This information, Choose Your Platform!