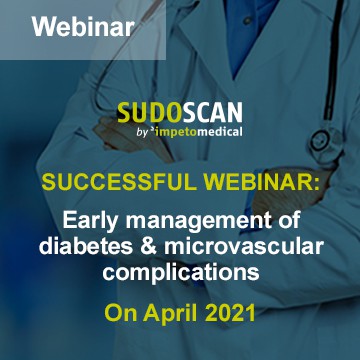 Successful Webinar: Early Management of diabetes & microvascular complications.
With our special guests, on April 2021;
On April 16 Impeto Medical had organized a webinar for health professionals on the Early management of diabetes & microvascular complications.
We were glad to welcome more than 80 attendees to this presentation with our special guests Dr Prash Vas and Dr Marie-Laure Névoret.
Diabetic Autonomic Neuropathy is a serious and common complication of diabetes that occurs in more than half of the patients. It can involve the entire autonomic nervous system. It frequently precedes other complications and manifests as dysfunctions in one or more organ systems, for example cardiovascular or diabetic foot.
In this webinar our special guests: Dr Prash Vas and Dr Marie-Laure Névoret explained the necessity of early management of diabetes and microvascular complications.
Dr Prash Vas is Consultant in Diabetes & Diabetes Foot Medicine at King's College Hospital (the first dedicated multidisciplinary diabetic foot clinic in the world). He is also Research and Innovation Lead for Diabetes & Endocrinology. Dr Vas is co-founder of the British Diabetic Neuropathy Symposium, involved with the EASD e-Learning Programme, and authored the module on diabetic foot disease management during the COVID19 pandemic.
Dr Marie-Laure Névoret previously worked at the Strelitz Diabetes Center at Eastern Virginia Medical School in Norfolk, USA, seeing patients and participating in clinical trials for diabetes, diabetic neuropathy and neuroendocrinology. Served in progressive roles at Helixmith, leading clinical programs of gene therapy for diabetic peripheral neuropathy and PAD. She maintains a position as medical consultant for Impeto Medical.
Share This information, Choose Your Platform!