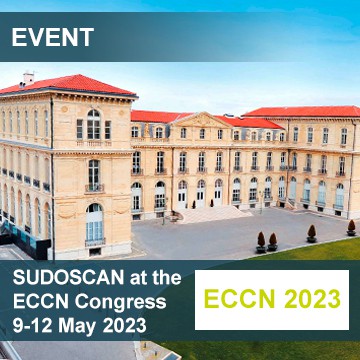 Discover Sudoscan at the 18th European Congress
of Clinical Neurophysiology from 9 to 12 May 2023 at the Palais du Pharo Congress Center – Marseille
Impeto Medical is delighted to announce its participation to the 18th European Congress of Clinical Neurophysiology, which will take place in Marseille, France on May 9-12, 2023.
We will be exhibiting at booth 12 and showcasing SUDOSCAN, our innovative device that can detect and monitor Peripheral Autonomic Neuropathies (Small Fiber Neuropathy).
A look at the program for the 18th ECCN
The 18th European Congress of Clinical Neurophysiology, with the support of the French Society of Clinical Neurophysiology, promises to be an excellent forum for scientific exchange, education, and networking. The event's theme, "Clinical Neurophysiology: Linking Bedside to Theory," aims to connect theoretical knowledge to clinical practice through ongoing technical advances in the specialty.
The Congress will feature various parallel sessions, workshops, oral communications, and poster sessions that cover a broad range of topics related to clinical neurophysiology.
The following topics will be covered :
peripheral neurophysiology,
non-invasive brain stimulation,
language neurophysiology,
muscle excitability testing.
autonomic nervous system testing,
neuropsychological assessment of thermo-nociceptive pathway function,
clinical neurophysiology of falsehood,
personalized therapeutic perspectives of non-invasive brain stimulation.
SUDOSCAN: Revolutionizing Small Fiber Neuropathy Assessment
We invite you to visit us at booth 12 and discover SUDOSCAN – a cutting-edge device that has demonstrated its effectiveness in various conditions, including painful neuropathies, transthyretin amyloidosis, Sjogren's Syndrome, Hepatitis C, and Fabry disease.
SUDOSCAN consists of a computer and four electrodes that patients place on their hands and bare feet. Within less than three minutes, the device stimulates the sweat glands, providing a comprehensive assessment of small nerve fibers (C fibers). This unique technology is quick, simple, and quantitative, making it a valuable complement to Electromyogram (large fibers) in the evaluation of small fiber neuropathies. By providing insights into the etiology of the condition, SUDOSCAN can help in the selection of an appropriate treatment plan.
Meet our team at the ECCN 2023 to learn more about SUDOSCAN and how it can benefit your patients. Don't miss the opportunity to discover this innovative device and its potential for improving the diagnosis and treatment of small fiber neuropathies.
More info about the venue:
The Palais du Pharo, located at 58 Boulevard Charles Livon, 13007 Marseille, France, is the venue for this event. The exceptional site, with a stunning view of the sea and the Old Port, is just 30 minutes away from the Marseille Airport. You can reach the venue by taxi or shuttle (which runs every 15 minutes from the airport to the train station "Gare Saint Charles" from 4:50 AM till 0:10 AM), and then by metro (L1) or taxi. The Marseille center is located just 10 minutes away by walking from the venue.
Official website of the ECCN 2023:
https://www.eccn2023-marseille.com/
Contact Impeto Medical
We look forward to seeing you at the 18th European Congress of Clinical Neurophysiology. Come and visit us at booth 12 to learn more about our innovative device and discuss how it can be beneficial for your patients ! Don't miss the chance to attend this exceptional event, which provides an excellent opportunity for scientific exchange, education, and networking.
To get more info, contact us through this link:
https://www.sudoscan.com/about-us/contact-us/
Share This information, Choose Your Platform!