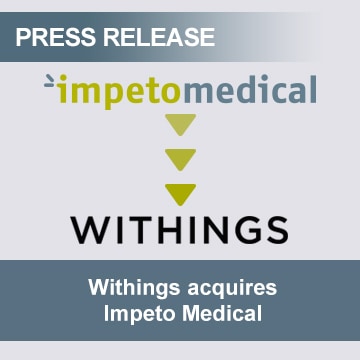 Press release:
Withings acquires Impeto Medical
Impeto Medical is a French company created in 2005  specializing in the research, development, production and sales of innovative medical devices, especially in the field of detection and monitoring of peripheral neuropathies.
With more than thousands of Sudoscan products sold worldwide, Impeto Medical sets a new standard in the field of detection and monitoring of small fiber neuropathies from the doctor's office, particularly important for the prevention of serious complications such as diabetes and several neurological diseases. As of November 20, 2021, Impeto Medical's activities have been completely sold to Withings company.
Founded in 2008, Withings is the European connected health leader. Composed of teams of engineers, data science experts and health professionals, Withings invents, designs, and manufactures a range of award-winning, clinically validated smart health devices and associated apps. Used by millions of users worldwide, Withings smartwatches, blood pressure monitors, sleep trackers and connected scales empower everyone to take control of their health, prevent, detect and monitor underdiagnosed chronic conditions.
The sale of Impeto Medical to Withings constitutes a major opportunity to continue supporting
the development of Sudoscan technology, whether in France or internationally.
Sudoscan is still being marketed normally in France and in other countries. The entire team remains at your service, whether it is sales, service, administration or support.
Share This information, Choose Your Platform!